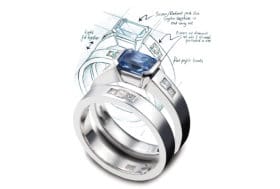 My work is through word of mouth so I am particular about blending your lifestyle and dreams to create exactly the ideas you had in mind.  If you have done some research or have a cut-out from a magazine of the style of jewellery you like I am more than happy to create that for you. I will make suggestions about how it will look from my experience to fine tune the design. If you are not sure of what you want then I have magazines for you to browse and can sketch from the photos we see what your preferences are. I can confirm this by a technical drawing when necessary so we are both in agreement.
Through my study of gemmology I am able to select gemstones with the best cut and clarity. I am also able to suggest and select stones to suit your budget so you can choose the one you like. You may have a gemstone that you have kept for years that you would now like to have made up and I can help you design something to suit. I can also assess gemstones as to whether they are synthetic or natural.  It's good to know whether they are real or not!
Engagement rings have traditional gemstones for a very good reason. There is a recognized scale of hardness in gemstones and Diamonds, Sapphires, Rubies and Aquamarines are high on that list. They stand up to everyday wear and tear. Emeralds are also hard but are considered delicate as they fracture more easily.
Each piece I make that is over $1,000 is valued independently so you receive a Valuation Certificate. This is an assurance for you that you have value for money.