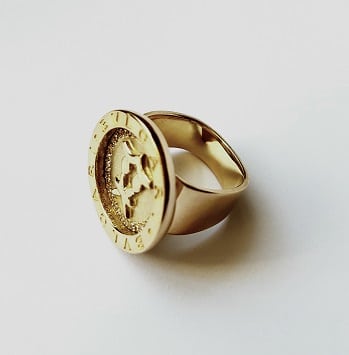 This 18ct yellow gold ring was long awaited and created with the top retrieved from a Bulgari ring that was found on a roadside badly damaged. This ring was joined to a circular plate with a combination of Astrology symbols signifying a family connection. Some of the Diamonds from the original ring were set within the circle and set on a soft square tapered shank for a 'pinky' finger.
BVLGARI is a trade mark of Bulgari S.P.A.
The product displayed is not an official Bulgari product, it has been reclaimed and reconstructed by us from a damaged Bulgari product.
We are not in any way associated with or endorsed by Bulgari S.P.A.